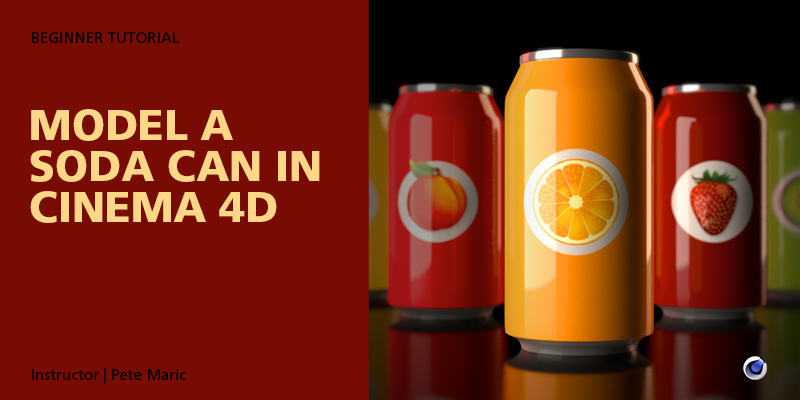 Model a Soda Can in Cinema 4D from Triplet 3D on Vimeo.
An introductory project-based course for the aspiring 3D artist.
If you've ever wanted to learn the fundamentals of product visualization, this course will teach you the entire production workflow. From concept to final render, you will gain the skills necessary to create realistic product images. This is a beginner to intermediate course and a basic understanding of Cinema 4D's user interface is recommended.
In this series of lessons we will cover a lot of topics to give you a solid understanding of the entire process:
01. Gathering reference images and packaging inspiration.
02. The creative and technical steps involved with 3D modeling the soda can, using parametric primitives, the make editable function, point modeling, and subdivision surface object.
03. Modeling the pop top using splines in conjunction with nurbs objects.
05. Creating a custom soda can label design with Adobe Illustrator and Photoshop, and applying materials using the store selections function.
06. Creating a 3-point light set-up and seamless background.
07. We'll cover cameras, composition, and depth of field.
06. Rendering using Cinema 4D's Physical render engine and specifying render settings.
07. Post-Production Techniques in Adobe Photoshop including blurs, sharpening, vignettes
08. 3 bonus lessons included covering an array of composition, modeling, and additional post-production techniques.
Ready to learn the entire product visualization process?
Enroll today:
Skillshare: https://skl.sh/34R2RXo
Udemy: https://www.udemy.com/course/model-a-soda-can-in-cinema-4d/?referralCode=84A1152330645116E219