Our Promise
We create artwork and 3D animation that represents you and your company at your best. We work hard to make sure you enjoy a consistent and rewarding collaborative experience with every project we undertake. We'll provide a clearly defined workflow for your project, and you can rely on consistent, hassle-free service from us.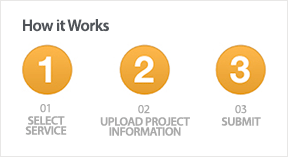 With seven unique services to choose from ranging from visualization to 3D animation, we can deliver exactly what you are looking for. Simply browse our services, review our workflows and project specifications required, and get started.
When getting started with your project, you will be asked a few questions specific to the service you are commissioning. Provide as much information about your project as you can, then zip all of your files into one document and upload with your order.

Once we receive and have a chance to review your project, we will be in touch shortly and will provide an estimate for the scope of work.